Cars Of Interest That I've Driven
Here is a list of cars of interest that I've had the opportunity to drive with a little review following each.




1991 Acura NSX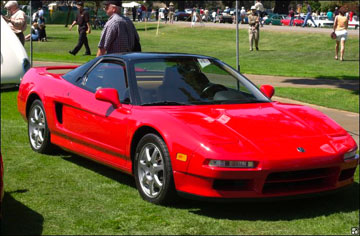 (Image courtesy of Imran Niazi at www.niazi.net)


        While I had always loved the styling of the NSX, it wasn't until I had actually driven an NSX, that I no longer thought of it as just another Honda. I now have much more respect for them. The background of how I was able to drive this car is actually interesting. I was cruising around Concord Pike, the Pike as we locals call it looking for a race before I headed over to a party at a friends house. I spotted this bright red NSX going the opposite way and made a quick U-turn to catch up. I caught up with him and called him out. We played around for a bit and I was able to pull on him. After playing around for a bit, he signaled for me to pull into a parking lot. I did so and we chatted for a while before Ken S. offered to take me for a ride. Before I had even accepted his gracious offer, he offered me a chance to drive the car. After a bit of hesitation, I accepted. (NOTE: Normally, I'd rather ride in the passenger side of high priced cars of people I don't know too well.) Given the opportunity, I just couldn't resist! After settling into the cockpit and making the necessary adjustments, we were off. The lack of power steering is the ONLY complaint I have about this car! While it doesn't have the punch of the turbochargers I'm so used to, it's pull of the line and the roar of the engine directly behind your ears is exhilarating! While the car has only sufficient power, I expected a bit more from an exotic. However, the handling and the mouth dropping looks made up for that. This car is truly an everyday exotic. The interior was very comfortable (Keep in mind it's a Honda!) and the power was enough to keep away from most challengers. I now have total new outlook on the NSX, it is something I'd like to add to my garage in the future.

2001 BMW M3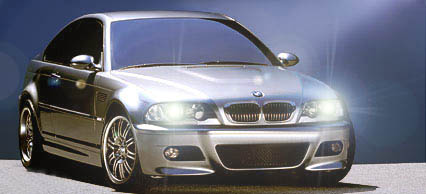 "Well, since you let me drive yours, I'll let you drive mine." That's how it all started after I let a friend, Dave S. attempt to drive my Esprit. Keyword would be "attempt" since he is a tad over six feet tall, this just did not work out well. His height was certainly not a factor with the car he chose for himself and that would be a 2001 BMW M3. Silver with red interior. I know what you're thinking now, red interior. That's the same thing I thought at first, but after a couple of looks at it, it's actually very tastefully done. The red leather is not a bright red, but more of a burgundy and the BMW mixture of black and red in the interior looks rather nice.
        Dave first takes me for a lap around our test area and explains some of the cars systems and special features. Features, such as the Sport button that instantly changes the characteristics of the car. The car instantly goes from being a mild mannered 3 series to a sports car in sedan disguise. While there is plenty of punch, the power delivery is very smooth and linear. I am very pleasantly surprised at the power that this car makes. I truly believe that the Bimmer engineers spent a lot of time working on the fine details of almost every aspect of this car. This car was definitely well planned out. I find power deliver and acceleration feel very similar to that of the Porsche Carrera. For comparisons sake we lined up my Lotus and the M and did a rolling third gear start. The result, believe it or not, is that the two cars are nearly even. The Bimmer also has the advantage of a six gear, which can come in very handy. Overall handling is very good. The steering is fairly light and very responsive, but not too touchy. The ride is very comfortable considering that this is indeed a car that you could drive everyday...you could even put a baby seat in there for the family travels! My conclusion, a great all around car with plenty of performance packed into something that not everyone expects…and it holds four people with plenty of room for luggage!


Cunningham Racing Nissan 300ZX


        OK, so I actually didn't get to drive this one. I did manage to jam myself into the driver seat though. It was actually very exciting to be sitting in a car that had actually competed in the 24 Hours of LeMans! It even has the LeMans sticker in it still. Not a comfortable car at all and I can't imagine how Steve Millen and company drove this car for hours on end. Has all the comforts of a concrete bed and less space! Still, with over 800 horsepower, I can't imagine what it would feel like to actually drive the thing! Perhaps someday Steve will let me take it out for an hour or so.

1999 Dodge Viper GTS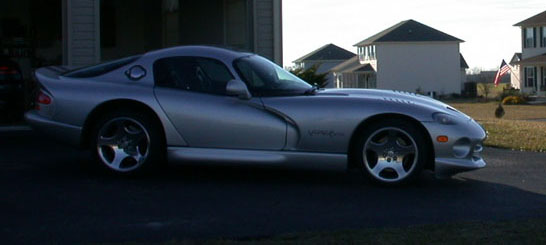 I still remember the first time I saw a Viper on the road. It was in San Francisco and I heard this loud rumble from about six blocks away. This shiny new Viper came roaring down the street and it left a image burned into my mind. I still haven't had the opportunity to drive one, only to inspect the cars closely from inside and from racing them. The cars I've been able to inspect closely and play with are a 1993 green RT-10, a 1993 red RT-10, and a 1998 GTS, silver with blue stripes. I was surprised at how comfortable the driver's seat is for a car that small. The 1998 GTS owned by Vern is the example that I had the opportunity to study the best. He graciously allowed me a hands on inspection after bumping into him at a local gas station. I was really surprised at some of the items in these cars. However, I was also really amused by some of the things that seemed to be an afterthought by Dodge. The cars roof and door latches seem to be something Dodge forgot about in their original engineering and just added on. Speaking of engineering flaws, I loved the way that I burned my leg getting into the driver's seat! Seems Dodge engineers decided the best place to put the exhaust pipes was to run them down the side of the cars in the door sills. Actually, I'm surprised this hasn't caused any body panel warping or any lawsuits. The quality on this car seems to be better than the C5s though. At least when I pressed on the little ledge between the tailights on the Viper, the rear panel does not fold in. While I didn't drive any of the Vipers, I do have to say that they truly have a large amount of power...at least the GTS' were. I was able to keep the RT-10s at a dead even pace off the line. This is from 0 to 120 MPH or so. However, the GTS is a whole different story. After our spending some time talking about cars, we went out on a road where he promptly demolished me. The car appeared to handle alright as well, at least better than any stock American cars that I had inspected before. Still this is an exciting exotic with good looks and an excellent car to cruise around in; however, it would not be my first choice.
        Well, there have been some changes since I had my first close encounter with the previously mentioned Viper. I can now say that I have been able to drive one, a 1999 Viper GTS owned by a friend of mine, Doug S. On a relatively warm Sunday afternoon in late February Doug and I met up to take some pictures and to sample each other's cars. So what did I think now that I've actually been able to drive one? Well, it is powerful! That's for sure, but who didn't know that? A local 1999 Viper RT-10's (owned by Steve K.) has been sighted pulling low 12 second runs at Cecil County Raceway. What do you expect from a ten cylinder motor on a light body? I do have to admit also that the suspension was not as soft as I had expected. Still a bit of an unsure feeling going into corners and wondering if that back end is going to kick out on you, but a pretty firm footing in the corners. I guess after the Camaros, Firebirds and Mustangs I've experienced, I wasn't expecting a fairly stiff suspension in an American car. It's still no Lotus or Porsche in terms of handling, but it's not a Pontiac Bonneville either. What I didn't like was the interior set up. There is a ton of space between the driver and passenger that could have been better designed and more appropriately used. The stereo carried an Alpine name; however, if you've ever seen an AC Delco stereo and have seen the Alpine receivers in Lamborghinis, Lotus, or even in your local stereo shops then an AC Delco stereo with Alpine written on it is what you're thinking about when you step into the Viper. The interior is actually reminiscent of a Dodge truck interior. Down to the plastic easy clean panels and the same switches. Exterior wise, well, it's a lot better than a Vette that's for sure! OK, enough about that. On to what we really care about! Step into the driver's side and start that motor up and you forget a lot of the minor things. Although you do have to watch what you're stepping on as I went to put the clutch down and ended up with my left foot on the brake pedal. That's right, for some reason the pedals are slightly offset to the left...ok, let's put it this way, if you sit down and turn your body to face slightly towards the A-pillar then you'll find the standard pedal placement with no problems! Apparently you get used to this position and as some Viper owners have told me, it does not bother them at all after a while. (Please define "a while") OK, so you let the car warm up properly and hit the road. Indeed do you ever hit the road! When you floor it in say a 2001 M3 or a Porsche 911 (996) you feel like you're going fast, which you are. Floor it in a Viper and you KNOW you're going fast! In any gear, any RPM, step on that gas pedal and you will KNOW that this car has a 10 cylinder motor that is full of torque and ready to go. Stopping is not rather unpleasant either. Brakes seem to be good for a car with this much horsepower. Good feedback on the brakes and no lack of friction to bring the car to a halt quickly. So my revised overall opinion? It still wouldn't be my first choice for the price you have to spend. Come on, we're in used Ferrari land here! Then again, the Dodge isn't exactly trying to gain the same market as someone that would buy say a Ferrari. (Unless you're Jay Leno of course.) The Viper is more for the wealthier muscle car crowd. Guys that normally would've picked up a Vette. Guys whose questions about a car usually consists of, "What's it do the quarter mile in?" and "What's the 0-60?" While it wouldn't be my first choice, it is a very fast car that in my opinion needs a few improvements. Oh yes, and at least I didn't burn my leg this time.


1995 Lotus Esprit S4S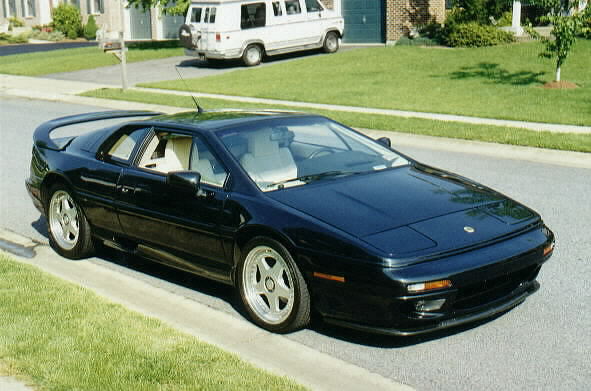 This car has always been my favorite car though, I don't know where this desire comes from. Perhaps it's from the James Bond movies but most likely, it is from the silver Lotus Esprit SE that was in Pretty Woman. The car that I drove belongs to George K. who is a good friend of mine. This car is everything that a true sports car should be! The dark green car with a mid-engined four cylinder turbocharged engine definitely puts out more power than your average four cylinder car. I have gotten to drive this car several times now. The first few times I drove this car, I was told that I was too easy on it. So, the last time I drove it, I promptly drove it like it was meant to be driven. The handling is crisp and very responsive, and the engine responds instantaneously with the push of the pedal. This car is truly an exotic car. It not only has classic styling, but also the power and handling to back up it's looks. For those that don't have enough power when the car is in stock trim, there are upgrades available. An exhaust can be custom made and also a wastegate update will provide you with more boost. This car is equipped with a custom exhaust made by Mufflex in NJ, which makes it sound like a cross between a sportbike and a V8. The exhaust system now consists of 3" stainless steel tubing and a Flowmaster muffler. The wastegate update was performed by the dealer. For Lotus owners, I seriously suggest you look into these modifications as well as the stainless steel clutch line. (Stock lines have a tendency not to take heat too well and will leave you stuck on the side of the road until it cools back down.) I should also note that the exhaust modification is not ideal for those who don't respond to noise too well. (Quite simply, it is loud!) I do have to admit, this is not a comfortable car to ride in or drive for a long period of time. The cabin space is very limited and also the lack of a dead pedal leaves your foot cramped after an hour. While there are tradeoffs, there is no other exotic that I can think of that can give you this big a bang for your buck.



---